Google released their newest addition to the Pixel series last week – the Google Pixel 6a, which comes with 5G compatibility and an upgraded design from its predecessor, the Google Pixel 4a.
In this article, we will give you a Google Pixel 6a review. Does this device live up to its hefty price tag with a larger screen size, improved battery life, and speed thanks to its new Tensor Chip feature? Let's delve into what we know so far about this device for all those on the fence about purchasing it.
Google Pixel 6a Review
Pros
Great value for the money
Rapid processing
Great 6.1″ size that doesn't feel overly large
Clean Android and frequent updates
Pleasant loudspeaker quality
Cons
It only uses 60 Hz
Without a zoom camera
Inefficient fingerprint scanner
There is no headphone jack
There is no charger in the box
Google Pixel 6a Unboxing
Like so many other new smartphones, the Pixel comes packaged in standard packaging—meant to fit easily on shelves. You might have guessed it already: It doesn't come with a charger.
In fact, there's nothing except for the phone and its accessories inside of the box—which includes cables, an adapter for SIM cards, and some easy-to-follow instruction manuals along with some tips for getting started with your new Google device. There are no extras like cases or pre-applied screen protectors.
Google Pixel 6a Display
The Pixel 6a is a budget-friendly phone that doesn't skimp on features. It has a 6.1-inch OLED screen with a 60Hz refresh rate. While the refresh rate is not as high as some of the more expensive phones on the market, it is still a good middle-of-the-road option.
The phone also has Gorilla Glass 3 for its screen, an older version of the Victus glass used in more expensive phones. However, it is still a durable option. The Pixel 6a is a great phone for those who want a smaller and more compact device. The screen is smaller than the flagship Pixel 6 series, but it is still a good size. The phone is lightweight and has good build quality.
Google Pixel 6a Design & Colors
The phone has a lightweight build quality with a sleek design that mimics its flagship counterpart. Although it doesn't have some of the more expensive features, such as water resistance, it does have IP67 certification, meaning it will survive rain or be submerged underwater for short periods. One downside is that there is no headphone jack which may be inconvenient for some users. However, at its price point, it offers great value!
With the release of the Pixel 6a, Google has expanded its smartphone lineup to offer more choices in terms of design and colors. The Pixel 6a features a recognizable horizontal camera bar on the back, available in three colors: Charcoal, Chalk, and Sage.
The camera bar is actually half as thick on the 6a compared to the Pixel 6, which is a nice improvement. Plus, with this design, the phone doesn't wobble when you lay it on a table. Overall, the Pixel 6a is a great choice for those looking for a budget-friendly smartphone with a stylish design.
Display Measurements
The Pixel 6 Series' most common complaints were its finicky fingerprint scanner, which required more pressure than usual and worked less consistently. The 6a has also received complaints about its inefficient fingerprint scanner.
Users report that they have to press extremely hard or else it will not work; some people even said it unlocked from time to time without them touching it at all, a major security flaw. Fortunately, this was not something we encountered on our test device, nor does the phone offer facial recognition options of any kind.
Google Pixel 6a Camera
The Google Pixel 6a camera system is an old one that you'll find in the Google Pixel 5a. It's also the same as what's inside the Google Pixel 5, and it's been in production since 2017.
In other words, the camera quality of the Pixel 6a will be less than that of the main Pixel 6 series.
Don't let this lead you to believe that the Pixel 6a's camera system will be subpar. Since Google's software processing is unmatched in the market, the Pixel 6a will probably still take some fantastic pictures.
The hardware is already seriously outdated and won't hold up over time, which will be an issue. We strongly advocate investing more money in the Pixel 6 if you intend to use the Pixel 6a for a lot of images and videos and plan to keep it for a while.
Google Pixel 6a Connectivity
The Pixel 6a is an unlocked phone that comes in two versions. The first is a model that supports T-Mobile and AT&T's 5G bands, and the second is a Verizon-specific version with mmWave 5G support.
The initial model is compatible with AT&T's n5, n48, n66, and n77 5G bands as well as T-n41 Mobile's and n71 5G bands. This means that the crucial mid-band 5G spectrum—the C-bands that make T-Mobile such a fantastic 5G performer—is supported.
Given the restricted availability of the technology, we doubt that the Verizon version's lack of mmWave functionality on AT&T will disappoint many users.
The new Pixel 6a has some great features that are rarely found in mid-range phones. One of the most notable is Wi-Fi 6, which can deliver faster speeds and better coverage than devices with Wi-Fi 5. Bluetooth 5.2 is another great feature of the 6a. This newer standard provides a better connection, plus you have NFC on board for using Google Pay.
Google Pixel 6a Battery
With a 4,410mAh battery, the Pixel 6a has more than enough power for this device. It has huge shoes to fill because the Pixel 5a from a year ago was a battery powerhouse that often lasted us a day and a half with typical use and even up to two days between charges.
The Pixel 6a is a pretty good battery performer. It can last through days of heavy use and can even stretch to a day and a half if you're careful. You also have the Adaptive Battery feature in Android 12, which should help smooth out your battery usage over time, and the Extreme Battery Saver feature, which pauses most apps and slows the phone's CPU down to conserve power.
Overall, the Pixel 6a is a decent battery performer. It's not enough as good as its predecessor, but it's still pretty good. With a little bit of care, you can easily get a full day and a half of use out of it.
Google Pixel 6a Charging Speeds.
These days, charging speeds can get pretty crazy. But on the Pixel 6a, you only get 18W of wired charging power. That's a bit slower than what you'd get on an iPhone or Galaxy.
There also is no wireless charging support on the 6a. So if you're used to the convenience of wireless charging, you might be a little disappointed. But you have to make some concessions in exchange for a lesser price.
Google Pixel 6a Competitors
We'll break down the competition for the Google Pixel 6a so you'll know what to look for in your new smartphone.
The new iPhone SE is a powerful yet pocket-sized device that retains the previous model's design. It has a 4.7-inch LCD display, Touch ID, and a 12-megapixel rear camera. The phone has 64GB of internal storage as standard and is powered by Apple's A15 Bionic CPU.
The 128GB and 256GB variants are also available.
The Samsung Galaxy A53 5G is a powerful smartphone with many great features. The Exynos 1280 CPU can handle whatever you throw at it, and the 6.5-inch AMOLED display is excellent for watching films and images.
The 5000mAh battery is also great, especially considering the 25W charging speed. The quad camera setup on the back is impressive, with the 64MP main sensor being the show's star. The 32MP front selfie camera is also excellent, and it's clear that Samsung has put a lot of thought into this phone.
Compare Price
Below are the pricing details from Amazon and Walmart; check them and compare which store offers you the cheapest on the Google Pixel 6A phone.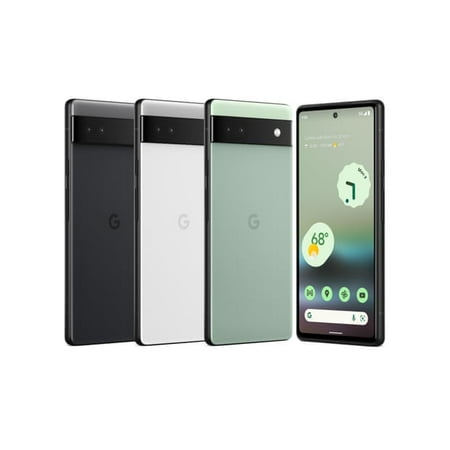 $339.99
in stock
8 new from $333.70
14 used from $199.99
as of November 17, 2023 5:26 am
Conclusion
The Google Pixel 6a is a phone with a price and features that are hard to beat. It has a crisp and vibrant display, a large battery, fast charging, and an affordable price. The Pixel 6a is easy to use and navigate, but it lacks some of the features that make other phones so desirable.
It's missing wireless charging or expandable storage options, which means you'll have to rely on cables if you want to add more storage space. It also doesn't have as many camera modes as some other phones.
But for individuals who don't want those capabilities, the Pixel 6a is a fantastic option for people searching for a stylish phone with good processing power.