Today, Snapchat is one of the popular apps among the younger generation. If we talk about the number of users, then every day it only increases. This is an interesting solution for online communication.
Users get a lot of interesting features, but from time to time they may encounter various problems. For example, an app may suddenly stop working. What to do in such a case? Below you will find some effective tips that can help you get rid of problems with Snapchat.
See also: Comprehensive Guide to block inappropriate content on Snapchat
Why Is Snapchat So Popular?
Even though today there are many popular platforms that are used regardless of age, an app such as Snapchat has gained the most popularity among young people. According to statistics, 65% of app users are aged 15-29. At the same time, there are only 25% of users over the age of 30. What is it connected with?
Firstly, the platform allows you to take pictures and quickly send them. Secondly, there are interesting graphics. The app also offers many interesting features that make online communication fun.
What Problems Do Snapchat Users Face?
Despite all the features and benefits of this app, users often face various problems. What are the key issues? Below you will learn about the most common problems users face.
● Login issues: Users may experience that they are unable to log into their accounts. Moreover, users can face such a problem that Snapchat won't let them log in for suspicious activity. In the latter case, consider reloading the app and logging in again using a VPN.
● App crashes: Users may experience the app crashing suddenly. There can be many
reasons for such an error, ranging from both device and app problems.
● Some features not working: Users may also experience key app features not working
(Filters, Bitmoji not working or streaks disappearing).
What to do if you are also facing similar problems? When it comes to fixing common issues,
there is a set of universal actions that can help in the case of the above troubles with Snapchat.
Below you will find some tips that can help you get rid of such problems and continue using the app without any trouble.
Quick & Easy Ways to Fix Snapchat When It's Not Working
So, what can you do quickly to get rid of Snapchat problems? There is no need to be a technical guru to solve some of the app issues. Below you will find some effective tips that can help in this matter.
---
Restart the App/Re-authorize
First of all, try to restart the app. Quite often, this can resume the normal operation of the app. All you have to do is close the app and then reopen it. Sometimes, this can be a quick way to fix the problem.
If that doesn't fix the issue and the app still doesn't work, you can sign out and sign back into your account to re-sync all your conversations. Re-authorization can help in solving the problem when Snapchat is not working.
---
Update the App
Often the reason that Snapchat does not work may be that you need to update it.
Updating the app is not only an opportunity to get some new features but also to get rid of many bugs that you may have encountered before. So, you need to see if there is a newer version available. If the developers have released a new update, then you need to use it.
How to start the app update process? If you have Android, then you can go to the Google Play Store and start updating the app. If you have an iPhone, then you need to go to the App Store. Start the updating process and then check how everything works.
You can alternatively download the latest version for Android mobile phones below.
---
Clear Cache
Often the reason why the app does not work properly lies in the cache. If you perform the
cache-clearing procedure, you can get rid of the problem that the app does not work.
Clearing Snapchat Cache on Android:
Open the "Snapchat app" and tap on your profile icon in the top-left corner to access your profile page.
Tap on the gear icon "Settings" scroll down and select the "Storage" or "Storage & Data" option.
Tap on "Clear Cache" to remove all temporary files and data stored by the app.
A confirmation prompt will appear. Tap "Clear" to confirm the action.
This is a common practice when it comes to apps that you often use. Therefore, you should go to the settings of your device and delete the cache.
---
Check Your Internet Connection
Sometimes, the app crashes due to the fact that the Internet is not working fast. This can often be the reason why you are facing issues with Snapchat. First of all, try turning Wi-Fi on and off on your device.
After reconnecting to Wi-Fi, you need to check if the problem is resolved. You can also restart your router and check how the app works. A poor Internet connection is one of the reasons why you can suddenly face some app problems.
---
Restart Your Device
A panacea for fixing some problems with the operation of the app or your device can be a
simple reboot of your smartphone. It is complicated to understand how this helps in solving a problem, but often this is one of the fastest and most effective ways to solve a problem with the app operation.
When you have problems with Snapchat, this method is no exception. So reboot your device and try to open Snapchat. The chance that Snapchat will work without problems is high.
---
Reinstall the App
If the above tips did not help you solve problems with Snapchat, then in this case, you can try to reinstall the app.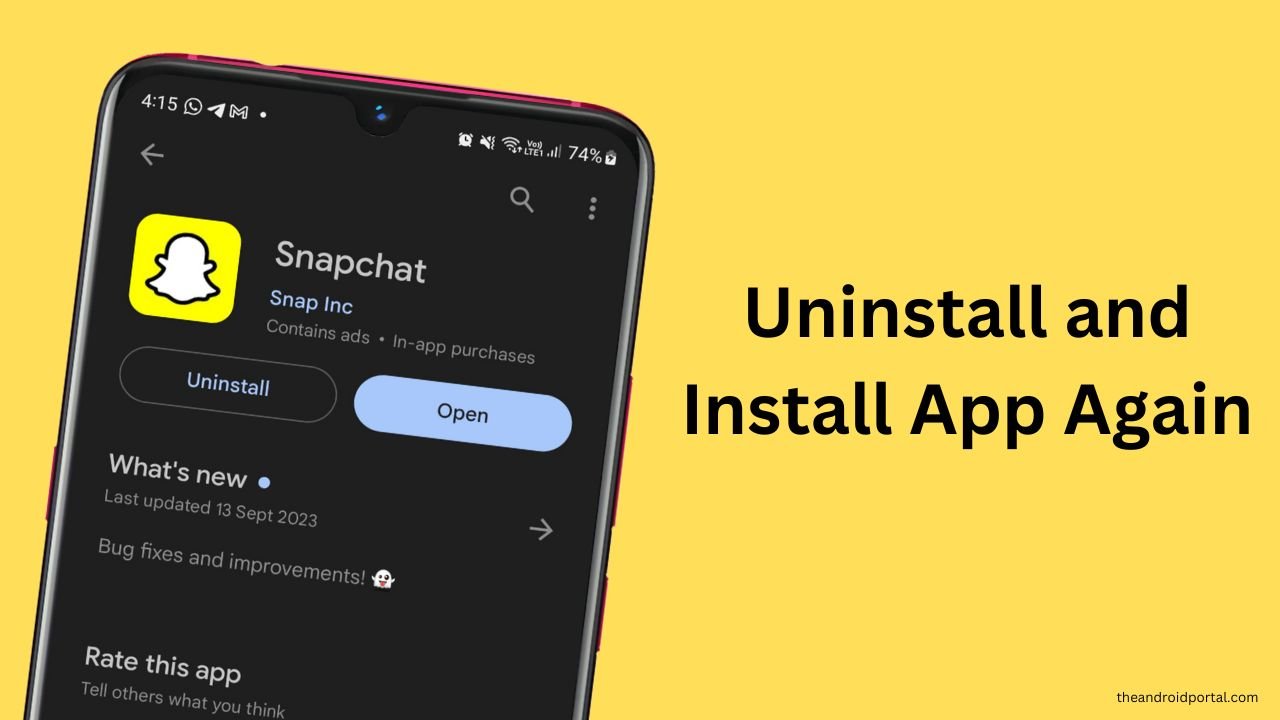 You need to delete the app and then re-download it to your device.
Reinstalling the app can get rid of many previous bugs that you may have experienced before.
---
Contact Snapchat Support
If none of the above tips helped you deal with Snapchat problems, then you can contact the app support service.
Describe your problem and wait for expert advice. You can use the "Contact Us" option to describe all your app problems.
See also: How to fix Snapchat Notification not working issue
---
Wrapping Up
So, now you know how to quickly deal with such a problem when Snapchat does not work. It's all pretty simple, and there is no need to do something extraordinary.
Try the tips above and keep enjoying your favorite app.