The Garmin 955 is a top-of-the-line GPS running watch with all the bells and whistles that runners and triathletes could want. It's got built-in storage for music, detailed mapping, advanced training metrics, and more. In short, it's a serious piece of kit for serious athletes. Here we will give you Forerunner 955 review, which will help you to take the best.
But all that technology comes at a price, and the Forerunner 955 is one of the most expensive GPS watches on the market. So, is it really worth the exorbitant cost? We put the Forerunner 955 through its paces to find out.
Here's our full review of the Garmin Forerunner 955
Garmin Forerunner 955 Review
Pros
Touchscreen
Solar power (on solar model)
Training readiness functionality
Maps and music
Cheaper than Fenix and Epix
Cons
Battery life is not exceptional
Specification
Display 1.3in 260 x 260 MIP
Storage 32GB
Water resistance 5ATM
GPS Multi-Band
Dimensions 46.5mm x 46.5mm x 14.4mm
Weight 55g
Screen Gorilla Glass DX
Price and availability
The original Garmin Forerunner 955 GPS watch was released in June 2022 and is now available at Garmin and other retailers.
The Garmin Forerunner 955(Non-solar) costs $499/£479 and is available in black and white.
$469.84
$499.99
in stock
17 new from $469.84
4 used from $399.99
as of September 22, 2023 1:40 am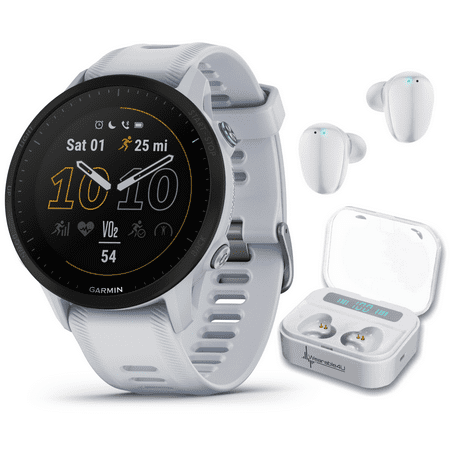 The Forerunner 955 (Solar) costs $599/£549 and also comes in black and white. You can check and compare prices for smartwatches below.
$589.95
in stock
12 new from $589.95
2 used from $499.99
as of September 22, 2023 1:40 am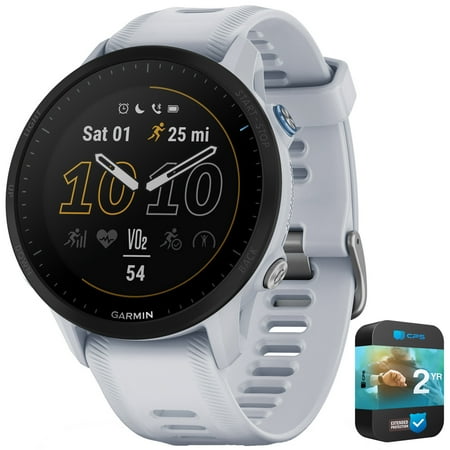 Both models are identical, aside from their Power Glass screens. The Power Glass screen harnesses the power of the Sun to increase battery life on your device; this means that you'll be able to use your watch for longer without having to charge it every day (or even every few days).
Design
The Forerunner 955 offers improved design features over its predecessor, the Forerunner 945. This smartwatch includes many sensors, such as a heart rate sensor, pulse oximeter, altimeter, barometer, and compass, which allow it to track your activities better than previous models.
This model also uses multi-GNSS tracking, which provides accuracy by using GPS, Galileo, and GLONASS satellite systems simultaneously, along with multi-band/multi-GNSS mode for even greater accuracy outdoors.
The screen size on the Forerunner 955 is bigger than its predecessor at 33mm vs. 30.4mm providing greater visibility when reading data on the screen. Another difference between these two models is weight. Where the Forerunner 955 weighs 53g vs. 70-80g on Fenix 7/Epix 2 models due to its plastic case being lighter weight material than other watches on the market today.
Battery life
The Forerunner 955 Solar is designed to give you longer battery life than the non-solar version by harnessing solar power via its 4mm rim around the display that catches the sunlight or by catching invisible rays below the glass surface.
This sleek running watch uses Bluetooth technology, so it syncs wirelessly with your smartphone for smart notifications like incoming calls, texts, emails, app alerts, and social media updates.
When it's time to recharge, it just connects via the USB cable, which can be plugged into any laptop or power bank on trips away from civilization.
Garmin bases its solar estimations on all-day wear with 3 hours per day outside in 50,000 lux conditions, which means if you're out hiking in direct sunlight most of the day. You can expect its battery life to last longer than the estimated times below.
Running and sports features
The Forerunner 955 is one of Garmin's newest running watches which aims to do it all—track every single sport imaginable. From running, biking, swimming, golfing—you name it! You can customize all these sports modes on the watch itself or through Garmin Connect App, making it super easy to swap between activities without changing your watch's screens.
Plus, the Forerunner 955 also includes some pretty cool health and fitness tracking tools like wrist-based heart rate monitoring (for real-time heart rate data) and VO2 max tracking (to measure how hard you push yourself).
And also recovery time (to tell you how much time until you're ready for another hard workout), race predictor/splits tracker (if you're doing any racing), sleep tracking with smart alarm clock functionality, plus so much more!
Activity & sleep tracking
I'm a big fan of activity trackers, and my favorite is the Garmin Forerunner 955. It's not just a great activity tracker—it also gives you insights into how well you sleep, which is something I've been trying to improve for years.
The Forerunner 955 tracks your steps and active calories, so it's perfect for runners like me who are always trying to increase their daily step totals. The body battery score (BBS) allows you to see how your energy levels have changed over time, which is another useful piece of information for runners.
You can set a daily step goal that adjusts in line with your activity levels—say, if it's been a busy week and you haven't hit 20,000 steps yet. But I also like setting an aggressive goal on rest days, so I know what kind of effort I need to put forth in order to see real results.
Maps and Navigation
Garmin has been doing fitness watches for a long time, and they know what they're doing. Garmin's Forerunner 955 is a good watch for runners who want to take their training to the next level.
One of their best watches is the Forerunner 955, which features full-color maps that enable you to create courses on Garmin Connect or other running route apps like Strava and Komoot. And before you run, or midway through when you realize you're completely lost, get turn-by-turn directions from the watch or design new routes on the watch itself.
The navigation on Garmin's top watches is head and shoulders above what you get from other companies like TomTom, who use outdated technology and lack any kind of innovation in their software updates (it can take months for us to get new features). The Forerunner 955 offers more than just running; it also tracks cycling, swimming, and other sports, so if your sport isn't included, then don't worry – there are plenty of other options!
Verdict
You can find a running watch here that does more than tell the time and track your distance; the Garmin Forerunner 955 might be worth checking out. It's packed with features, including a training readiness score that helps you know how prepared you are for any upcoming race or training session.
The Forerunner 955 has nearly all the features of its Fenix 7 predecessor, but it's much cheaper. So if you're planning on rock climbing or doing really extreme sports, I don't think it's worth going with the Fenix 7—but otherwise. I think this is the best running watch right now.
I also love how well-priced it is because I've had running coaches for years who ask about sleep, nutrition, menstrual cycle, and overall health when deciding if I'm ready to train again after being sick.
The Training Readiness score helps you do the same from your wrist, so if I'm feeling run down, my coach will ask about sleep, nutrition, etc., which makes it feel like I have a virtual coach on my wrist!