WhatsApp has finally introduced Stickers for so many users. It is being rolled out on the latest version and it will be available to all users for Android and iOS users within a week or two. If you haven't updated your WhatsApp with the latest version, you can download the latest version of WhatsApp from Google Play store to see, if you have got WhatsApp Sticker feature or not. WhatsApp has announced on their blog on 25th Oct 2018 about introducing WhatsApp Stickers and finally, we have received an update on it.
We are a beta tester of WhatsApp and hence we have received this feature on it, if you are not seeing this feature, don't worry. Soon you will get it on your updated version of WhatsApp.
How do WhatsApp Stickers look Like?
Check below images to see, how it will look like when you have got WhatsApp Stickers on it. Good thing is that you can also download more WhatsApp Stickers from their menu options.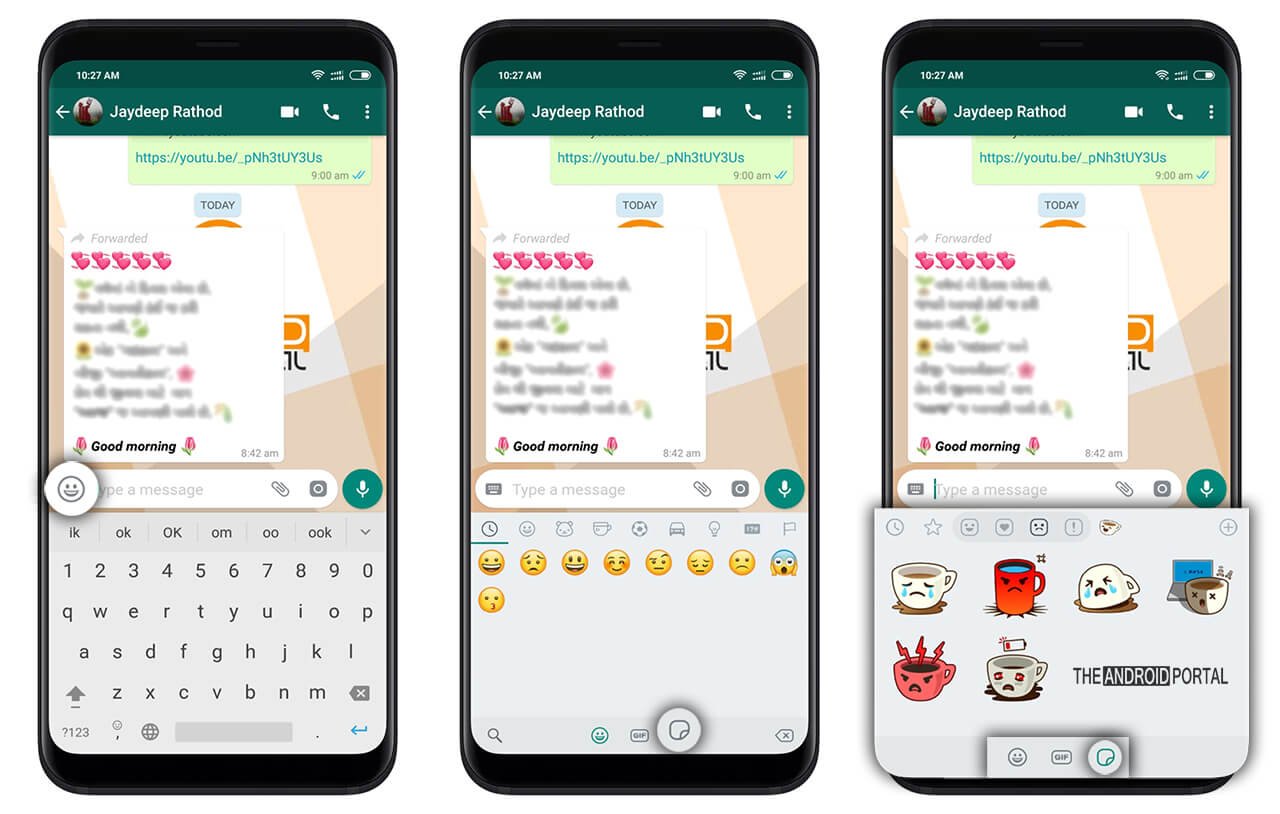 To get WhatsApp Stickers, you will need to tap on Emoji Icon when you are typing text. So you will see WhatsApp Emojis, WhatsApp GIF and next to that, you will see the WhatsApp Stickers option.
Just tap on WhatsApp Sticker option to use it.
Favorite WhatsApp Stickers – When you tap and hold on any Stickers, it will be added to your favorite WhatsApp Stickers, so that you can make use of it frequently.
Recently Used Stickers – You will see category wise stickers like a smiley, sad, fun like categorized stickers that you can use to show different emotions.
---
Download More WhatsApp Stickers
If you are not satisfied with default WhatsApp Stickers, you can download more stickers on your WhatsApp by tapping on the "+" button just beside the sticker option.
All Stickers – Here you will see a list of all the stickers you have in your account. You can download other stickers on your WhatsApp by tapping on the download button just beside the stickers.
My Stickers – Here you will see a list of your downloaded stickers.
---
Check below video on overview and how to use WhatsApp Stickers in Hindi in below video.
---
We hope you liked this new features that were recently launched by WhatsApp. Still, we all are waiting for WhatsApp dark mode feature that is expected to be launched soon, but no official information yet. Stay tuned for more info!
Do share your comments in the comments section below, What other feature you expect from WhatsApp Messenger.