The IR Blaster is a unique feature in the android smartphone that allows you to control your television via your smartphone. Android TV Remote Control App gives you fully remote control access and other many features similar to that you get with your original TV remote. Only you need to download any TV remote app and enhance your television experience with new remote control app on your Android smartphone. You don't need your tv's remote to change channels on your TV because you can control it directly using your smartphone device.
Note: Most of the TV remote apps will only work smartphone that comes with IR blaster. So make sure you have a compatible Android device before downloading or buying any TV Remote app from play store. Here in this article, we are going to suggest few of the Best Free Universal Remote App for your smartphone.
Best IR Remote Apps for Android
Check out below list to find out the best android remote control apps.
Easy Universal TV Remote
"Easy Universal TV Remote" is the first app of our listing that allows you to use your smartphone as original TV remote control. The easy universal tv remote app uses your smartphone's IR port to access TV Remote Control. It worked like first electronic universal remote control of your TV.
Note: If your Smartphone does not have Infrared port, you can also control your TV using WiFi network if your TV is smart TV. Easy Universal TV Remote Android app is compatible with most of the tv brand like Samsung, Sony, LG, Panasonic, etc.
Smart IR Remote – AnyMote (Paid)
Smart IR Remote is the another app that also is compatible with most of the infrared supported smartphone. Smart IR Remote app only work with few Samsung, HTC, and LG G3 & G4 devices. It also works with on most custom Roms like Cyanogenmod. But smart IR remote may not be working with some smartphone brands like Huawei, Sony, Vizio, etc.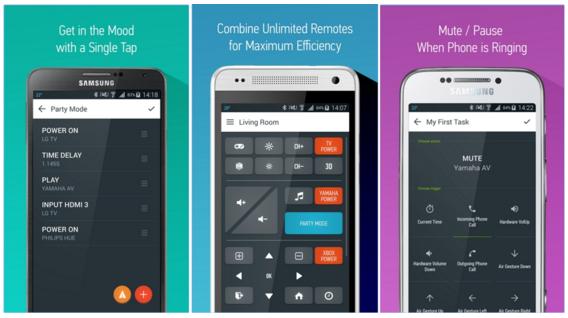 Smart IR remote is universal remote control app that can work like any other infrared original electronic remote.
Note: If your smartphone is not supported infrared feature, don't worry about it because the Smart IR remote also work over your smartphone's Wifi network.
IR Universal Remote™ – IR 2.0
As the name suggest, this is the universal remote control that can control your TV's, Satellite Receiver, Blu-Ray Player and Soundbar using this IR universal Android Remote Access app.This app can also control DVD Player, Game Console, Cable Box, DVR, isn't it great?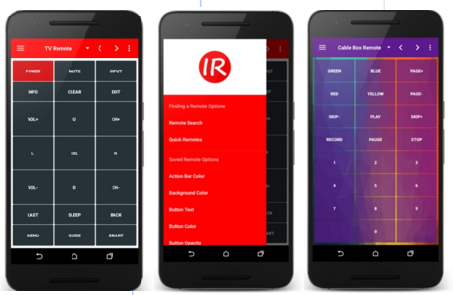 Supported TV Devices – This works with most of the TV brands like Samsung, Sharp, LG, Hitachi, Insignia, Hisense, JVC, Panasonic, Magnavox, Sony, Sanyo, Vizio, Philips, Toshiba, RCA, plus more!
If you are using the device, this would be plus point for you. Because this tv remote control app has been tested on those devices successfully.
HTC One M7, M8, M9, Samsung S4, Galaxy S5, Samsung Galaxy S6 Mega, Samsung Galaxy Note 3, Note 4, Note Edge, Note 10.1, Tab S, Note 8.0, Tab 3, Tab Pro, Huawei Honor 6 smartphone, LG G3 headset, G4 Android device.
LG TV Remote
LG TV Remote app is compatible only with most of newly released LG Smart TVs which are released between 2012 to 2015 or later. If you have LG smart TV that released in 2011 or before, then this tv remote app is recommended for you.
Supported TV models – This app work with most of the popular Models series like LM9600, LM6100, LM9500, LM9400, LMG860, LM76XX, LM8600, LM67XX, LM64XX, LM6300, LM66XX, LM62XX, LM5900 and LS57XX, LS5800, PA6900, PA4700 Series.
Note: This application may not be supported Mini TV feature, and the mini features only support ATV, DTV, COMP, AV/SCART. This Remote application supports most of Popular Smart Tv Models series like LM Series models, LG LA series, PN, UB, LB, and PB models of Smart TV.
The most favorite feature of this android tv remote is "TouchPad" that allows you to control your Lg smart Tv using a pointer like PC mouse pointer.
Smart TV Remote
The Smart TV remote work on some kind of Infrared devices like a cable box, an audio receiver, or a media player. In work smoothly without any problem and it can control up to four infrared devices. Smart TV Remote perfectly works on Samsung TV's which are released in 2011 or later. This app manages some kinds of Tv Devices model like Samsung B, Samsung C, and D series; it also works on E and Samsung F series TV Models. Smart Tv Remote app give you to define your favorite Tv channels and also give you full freedom to access via your Android smartphone. It also comes with most cool features and many tutorial features which show easy step by step introduction to use this app.
The Smart Tv remote app is perfectly working on most of the infrared supported Android devices like  Samsung, HTC, and many other featured phones. It can be a perfect solution for you if you are planning for Samsung Smart TV Remote Control Replacement.
Here we have listed Best TV Remote App for Android smartphones. If you are using iPhone and have any app that can control your TV from your iPhone, you can comment below with Best TV Remote Control App for iPhone to be added in next article for our readers.