You may consider an android phone not as highly efficient as a computer, but for many it is. And, the nightmare for many Android phone users is smartphone freezing issue. So, let's unfreeze a frozen android phone today in this post.
This troubleshooting guide is designed to help you deal with a stuck android phone. Well, the smartphones available in today's market doesn't let users face phone hanging freezing issues. The reason is they come with robust hardware that withstands all the processes and operations on Android.
Crashes and freezing in low-end smartphones are the two common issues associated with low RAM smartphones. Well, we can't blame manufacturers for this because it's all about your budget and that's what you can get within a budget price. However, still, if you will buy a low-end budget Android smartphone, chances are you will encounter the same issue.
Furthermore, if you've any old smartphone device with low RAM and storage capacity, you can not imagine your phone without facing these issues every day. So, here in this post, we are going to unfreeze a frozen android phone and will provide you with all the steps with an explanation so that you don't face any such issue again.
So, let's start now with this troubleshooting post and explore everything to unfreeze a frozen android phone right now!
Guide To Deal With Stuck Android Smartphones And To Unfreeze A Frozen Android Phone
There are not too many things that you need to do to get rid of smartphone hanging and stuck issues. In other orders, there are limiting factors that affect the performance of an Android phone and lead to freezing problems.
So, here we will be explaining all such factors and will target them one by one to unfreeze a frozen android phone.
Step By Step Guide To Deal With Stuck Android Phone
Force Stop The Culprit App
If it's an app that you've installed on your phone and that leading to freezing issues, force close that right now. Your experience will tell you which of the apps installed on your phone is a culprit. Once you find the culprit, force that hung app close.
So, to do that, you need to go to the Settings app on your phone and then get into the Apps menu. Now here you need swipe and go to Running Apps section. That's all. Now select the culprit app behind the issue and then tap on the Stop button.
Furthermore, if the culprit does not appear there in the apps list page, tap on Show Cached Process toggle which is available at the top right corner of your android screen.
Try Restarting To Unfreeze A Frozen Phone
Most of the time restarting the phone can help in getting rid of the stubborn problems. So, here in this step, we will be restarting the phone.
Therefore, to do so, press the power/sleep button of your phone continuously for a few seconds. Soon, the power menu will pop up and will ask you whether you want to switch off your phone or not. So, just confirm the action by tapping on that, and your phone will shut down immediately. Once your phone is switched off, press the power button again for a few seconds until the screen turns on, and you find your phone switching on. Your phone will be running smoothly back after restarting it.
However, please note that it's not a permanent solution to this problem and it works to fix minor software and hardware glitches only. Also, you might have to restart your phone again and again whenever you encounter your phone is frozen. So, for the best solutions, try the below methods too!
Force Restart To Unfreeze A Frozen Android Phone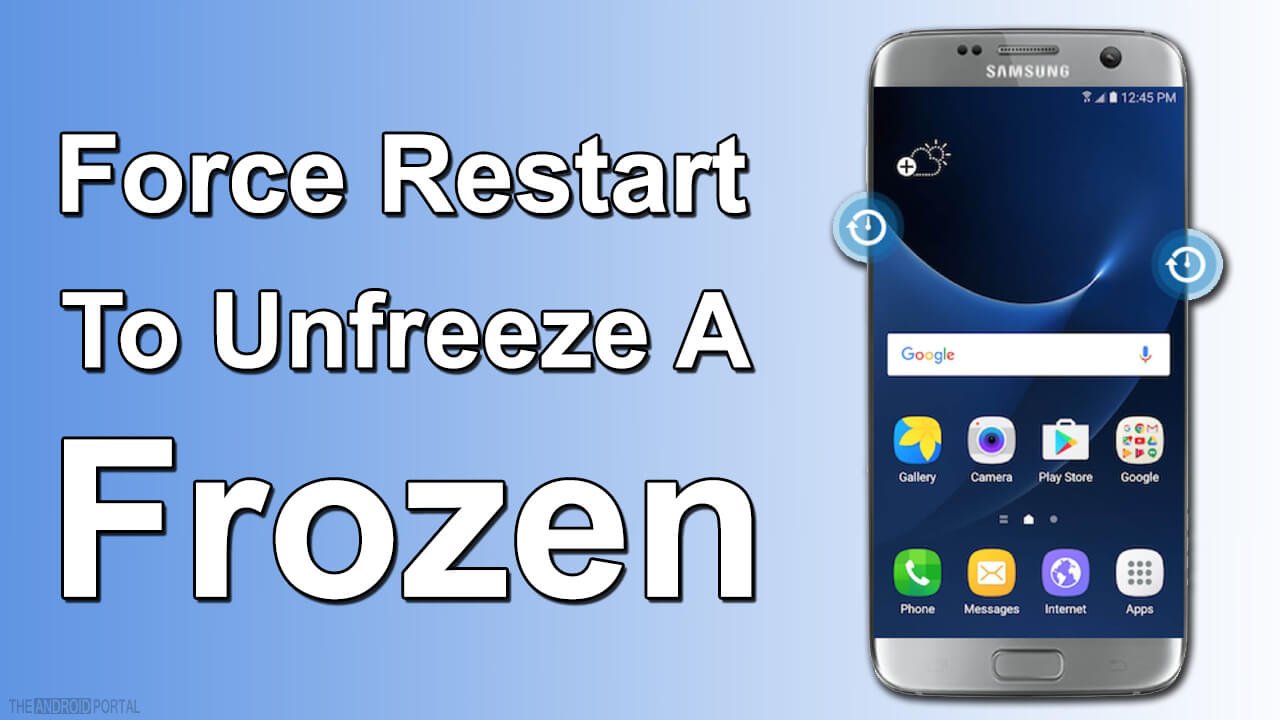 One of the must-know things is that your phone won't shut down with standard method if it's frozen. So, in such case, you will have to try force restart to unfreeze a frozen android phone.  However, the process is quite complex, but we have tried our best to keep the steps simple.
Also, please note that the method to force restart a phone varies from one to another model, android version, and the manufacturer. So, keep these facts in your mind when performing a force restart on your phone.
Finally, to perform force restart (on most Android phones), you need to press the volume up and power button simultaneously until your phone's screen goes dark. From right there, turn on your phone again by pressing the power button continuously for a few seconds. That's it.
Also, please note that if this volume up button method fails to force restart your phone, do follow the steps mentioned in your phone's manual book.
Try Removing The Battery
If your phone is frozen, and it's equipped with a removable battery, the best way to force restart that phone is to remove the battery. It will force restart your phone directly after reinserting the battery and pressing the power button again.
So, to do so, you need to pop off the battery cover first and then remove the battery for a few seconds. Now put back the battery in matching power terminal position and snap the battery cover back on your phone.
That's it. Now just power on your device again and check. Also, do follow this method only when the above ways to restart your phone fails. This is because some users have reported short duration data loss after removing their battery directly from their phone. So, do keep the facts in mind and proceed accordingly.
Restore To Factory Defaults
If you're considering the above methods as temporary approaches to unfreeze a frozen smartphone, do try this one. Firstly, please note that this method won't work on frozen phones. Well, it will but right after restarting or force restarting your phone.
No matter whether your phone works slow after a restart or what, all you need to do is visit Settings apps somehow. Once you restore your phone to factory default, chances are you will get rid of the phone freezing issues, and you won't encounter the same any time soon in the near future.
So, to do that, navigate to the Settings app on your phone after the restart, scroll to explore the options, find Backup and Reset menu. Next, you need to perform a factory data reset on your android phone by tapping on it. Furthermore, you will have to confirm the action. So, do that and proceed to complete the factory data reset operation successfully.
Doing so, your phone will restore itself to pristine, fresh from the factory settings. However, please backup your phone data so that in any case you don't lose any of your important images, media, and files.
Summary
So, that's everything you can do to unfreeze a frozen android phone. Also, We hope this post has explained all the things and steps appropriately to you. Hope you won't face any issue when following the steps.
Furthermore, if you find yourself stuck at any stage, do comment below, and we will help you. So, that's all for now and thanks for reading this post here at TheAndroidPortal. Do follow us for daily android and tech related updates, news, tips, and tricks.