The logo is a symbol that represents the organization or company in terms of pictorial art. We know that many major companies have a professional-looking logo, making them unique among so many. Professional logo designers have designed the logos of those bigger companies.
Those companies hire professional custom logo designers to do the task for them and pay a handsome amount for this. But what about small business owners who have a limited budget for logo design? As they might not afford that amount for a logo, they can have Best Logo Maker Apps.
Yes, here we have recommended logo-making apps for Android. These apps will help everyone to create their own pictorial art as your brand logo. For that, just take a ride over the guide, and you will be able to do so on your own.
Best Apps to Create Logo on Android
Now, we are going to discuss the best logo-making Android apps for your device. You can easily download any of the below apps from the Play Store. All these apps are in-app purchases. They offer high compatibility with most of the latest Android smartphones and tablets.
So, now take a look at the guide and give a different height to your creativity with these apps.
Logo Generator & Logo Maker
The Logo Generator & Logo Maker app is not fully free for smartphone users. This means you can download it free from the Play Store. But to use their extraordinary features, you have to pay some amount.
Although, you also get some features to use freely. It also has some downloadable categories; to use it, you just have to download it from the app. It is a very useful app for both professional logo makers as well as freshers.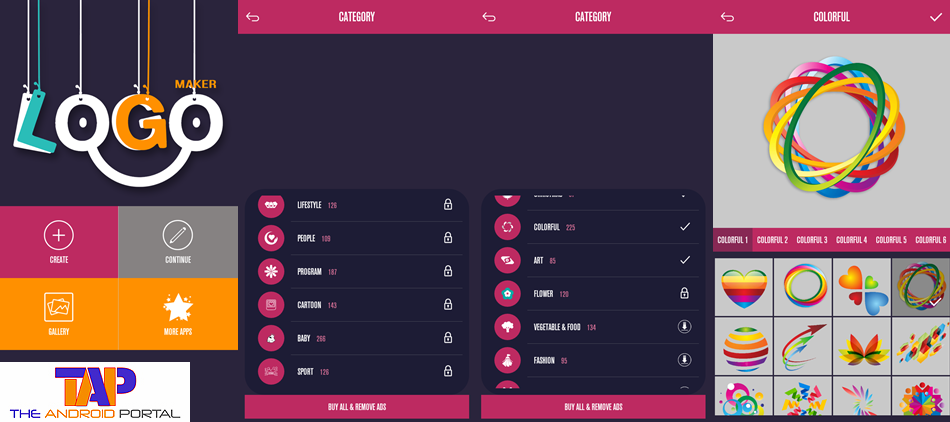 The Logo Generator & Logo Maker app provides many categories to make an attractive logo. It offers Xmas, Halloween, Mandala, flowers, Women, Valentine's, Nature, Lifestyle, People, and more.
But to use these categories, you have to purchase them from the app maker. In terms of free categories, you will get Christmas, Art, Colorful, Vegetables, Food, Fashion, Animals, and more.
To make a logo online, you must select any content from the categories mentioned above. Then, on the next page, you will have some edit options to create the best logo on your own. With the help of it, you can change the background, add text, and add shape.
After making all the changes and adding the best creativity, save it in the mobile storage. To do so, tap on the top right-corner option, and you will be done. Using the same option, you can save your design as a draft.
---
Logo Maker
The Logo Maker is an easy-to-use and simple app that comes with an attractive UI. It will offer you lots of professional logo-making and editing tools. It also provides a huge collection of symbols and icons for your logo making. One of the impressive features of the app is that it offers you a 3D rotation of the making.
You should have options like Create Logo, My Designs, and My Creations on the main page. Tap on the Create Logo option to start with a new one. The next display brings some tools to begin, such as backgrounds, Art, Text, Effects, and Image. Backgrounds let you change the background of your logo.
Art tool lets you choose many of the arts and symbols to make a logo more elegant. Many arts are categorized under shapes, circles, leaves, hearts, social, party, and more.
You can add text and make it beautiful using various fonts and other features. Some effects are also there to make your creation more effective.
If you do not want to use any art and symbols, then you are free to use an image from the mobile. At the time of saving, you can save it either as a design or an image. You can also make it viral using the available sharing options.
---
Logopit Plus
This is the best app if you want to use a simple logo maker app with no dazzle. The Logopit Plus app comes with a simple but user-oriented UI. This app is also known as a second name, the Logo Maker Plus App.
To make a logo using this app, you must have a data connection or Wi-Fi connection. Then and then, it can load the features. So, before using this app, make sure about the internet connection.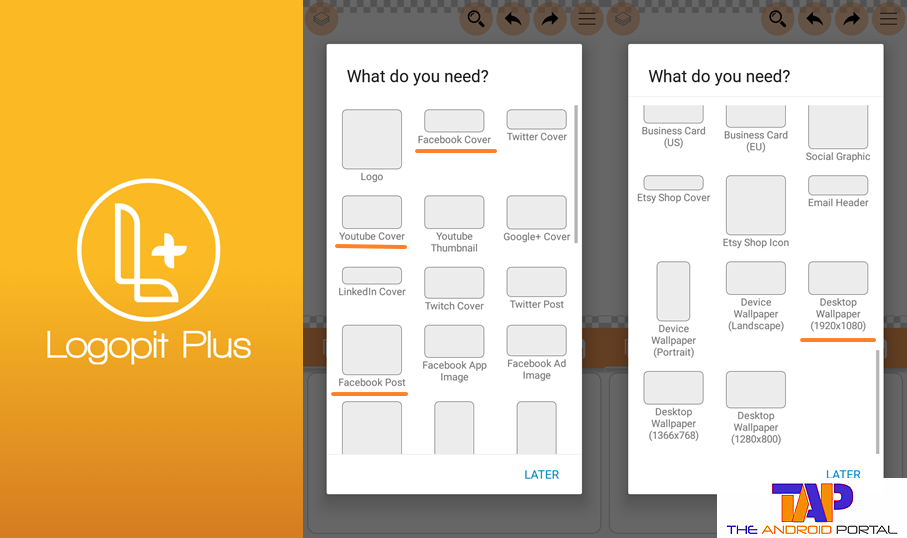 With the opening of the app, it would ask you to choose the frame for the logo. It offers you many frames, including Logo, Facebook Cover, Twitter Cover, YouTube Cover, Facebook Post, and many more.
If you want to share it with your Facebook friends, then the best frame is Facebook Post. So, as per the requirement, you can choose any of the frames.
Then, it offers you options to proceed with Add New Logo, Add Image, Add Text, Color combination, and saving options. In terms of logos, you will get some categories of a logo to select and use.
To use the exclusive and premium logo, you have to purchase it. You are also free to use your own image for logo making. Add Text option will let you allow to add some motivational text. The color combo will let you create some attractive colors. You can save your logo as a draft, JPG format, or PNG format.
---
Logo Maker & Logo Creator
The Logo Maker app lets you create a nice logo in a short time. By using its classic features, you can easily do it. It has many tools to help you create such an amazing logo.
It offers you more than 3000 shapes and symbols which is in terms of categories. If you want to find any other shape, then there is also a search option. Just search the keywords you want to find, showing all the relevant results.
To begin, tap on the + sign on the app's main page. It will take you to the new screen, where you can see all the useful tools to create a logo. Here, you can see Add Shape and Add Text options. Tap on the add shape to add any symbols or icons to the screen.
As you tap on it, it shows you various categories like Shapes, Agriculture, animals, Fashion, and many more. After selecting one, you can also add text. For that, it has many of fonts to make the logo desirable.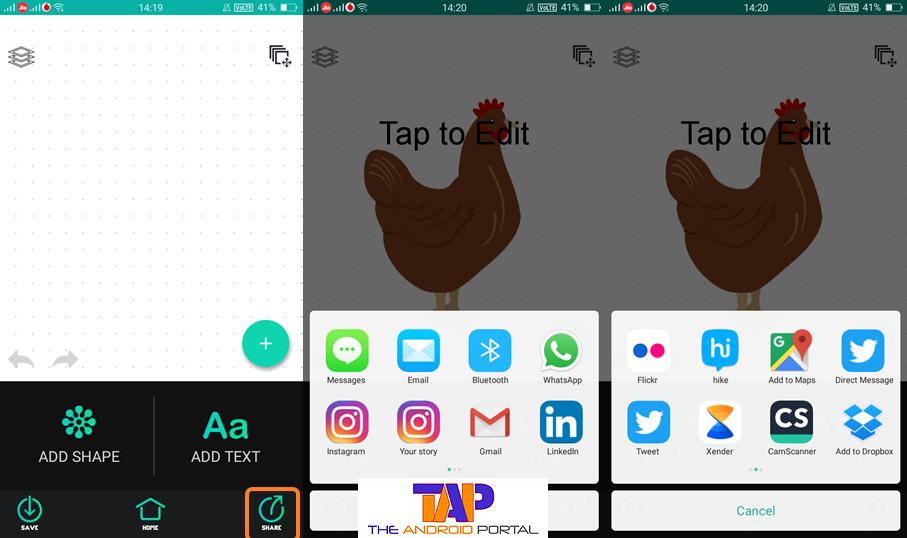 After making it completely, you can have two options to save your creation, PNG and JPG. You can also give the file name for easy recognition of it. You can also share it through various shareable sites and messaging services.
---
Logo Maker – Logo Creator
Another logo maker app also does an excellent job of making the logo for everyone. This app lets you create your own logo with so much ease. It comes with great UI.
With a free download, this app allows you to use 15 icons. Although, it offers you more than 1000 logo icons for a creative and effective logo. But, to use the remaining icons, you have to purchase them from an in-app purchase.
Also of that, with your creation, the app watermark will also be there. You have to make the same in-app purchase to get rid of it.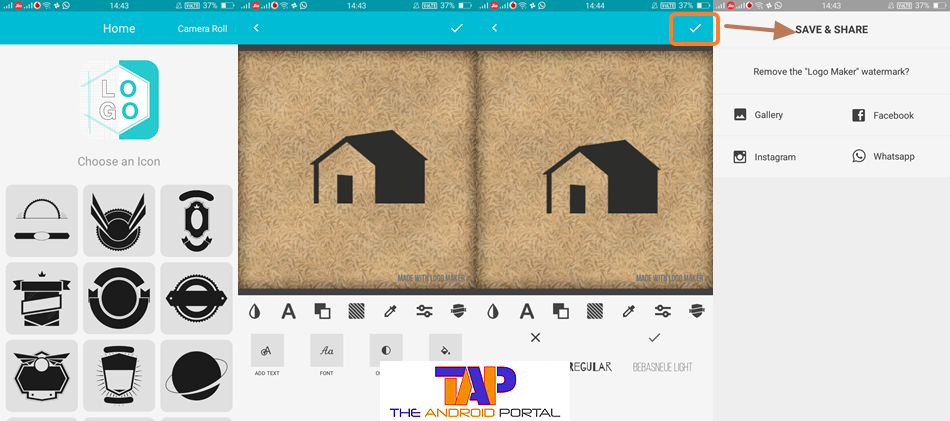 You can use your own images from the Gallery of the device to make a logo. You can also use various tools like filters, backgrounds, colors, brightness, contrast, saturation, and more. It offers you add text options with many available options of fonts.
Opacity lets you set the opacity of the icon. To make it more beautiful, you can also use a color combination. You can also save your logo in the Gallery. It also offers you a sharing option for your creation via social networking sites.
But, with the free download, you can only use the limited features of this app. So, to enjoy all the additional features, you will have to make an in-app purchase.
---
Here, we have stated some of the Best Logo Maker Apps for Android users. So, as you have visited the complete guide, you might know which is the best one.
Which app would you like to give a top rank? Let us know in the comment section. If this guide helps you make an awesome logo for your business, share it with other owners.