If you are tired of your smartphone's speaker or your earphones, you should give a try to Dodocool mini speaker that cost you only few bucks and it's sound is amazing with built in mic. When you hold it, it feels like small and tiny but when you hear it's sound, you will come to know it's original power.
This bluetooth speaaker is small sized, approx. 3.4 x 3.2 x 2.3 inches that seems portable and you can take it anywhere or keep into your pocket and take it anywhere you want.
Playing time and battery backup of this is around 4 to 4:30 hours and it takes around 2-3 hours to get complete charged. It comes with micro USB cable that you can use to charge this mini bluetooth speaker.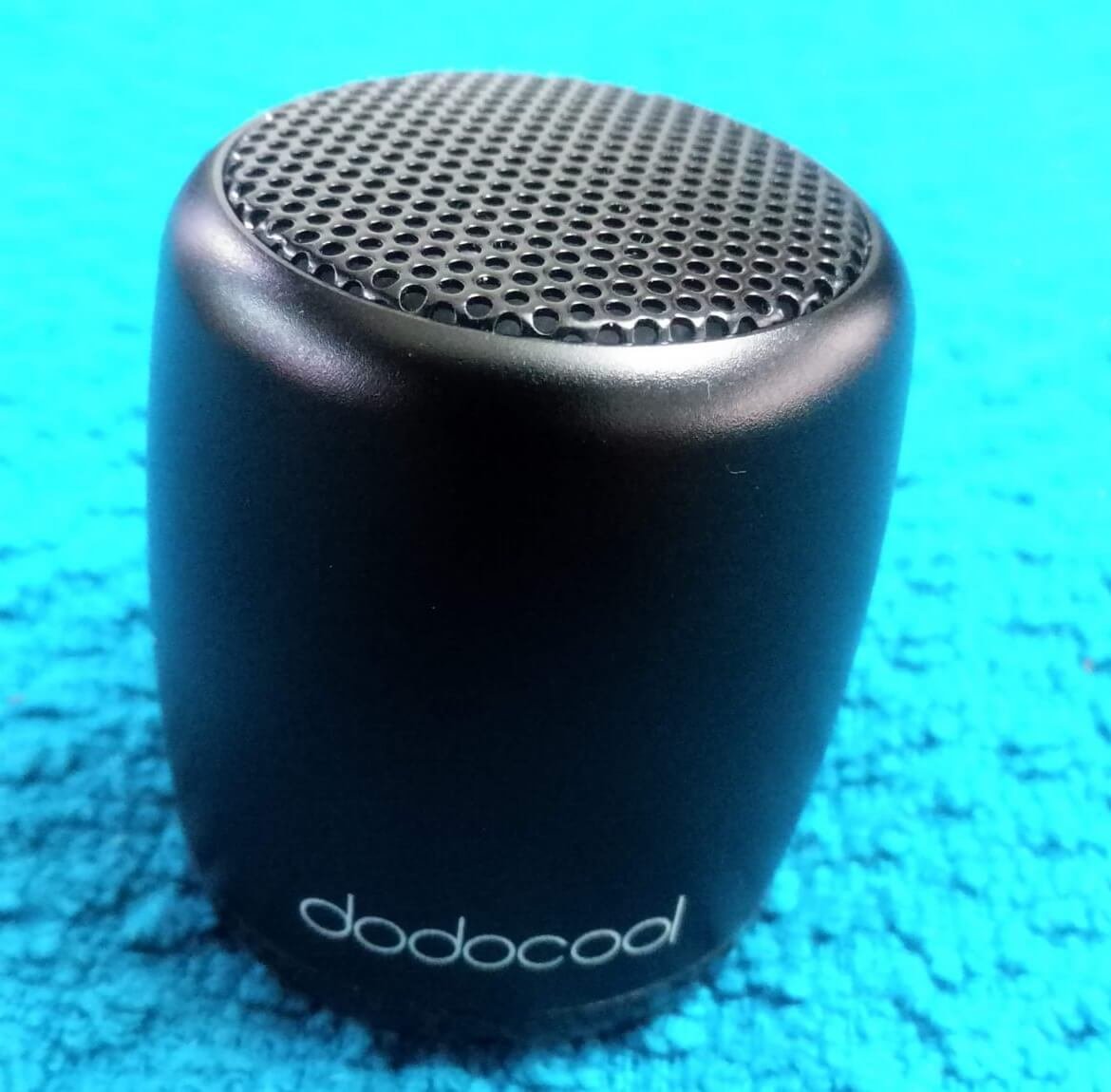 It's weight is only around 40-45 gram which you can carry in your luggage or your pocket that not become burden. It's very nicely made up and black shining color make it  more attractive. On the bottom of the speaker, you will see power on off button which you can push for 2-3 second to start it and again for few second to switch off this.
On the back side, you will find micro USB port for charging the device. On the top, you will see membrane speaker. Good thing about this device is at the bottom, there is rubber ring designed along with speaker for stability of that, it holds the surface perfectly so as it won't move around because of vibration when we play song loudly.
When you order this dodocool bluetooth speaker, you will get a mini speaker, charging cable, strap and box.
How to Connect Dodocool mini Bluetooth speaker with smartphone?
Click and hold the bottom button to start this speaker, it will give little sound and LED will start blinking so that you can come to know that the speaker has been started
Open Bluetooth in your smartphone and search for new Bluetooth device from there.
You will see DA84 as model in Bluetooth search, connect to it.(You can also change name of your Bluetooth speaker from your smartphone once connected)
Once connected, you will be able to play YouTube video, MP3 songs(receive incoming callls & selfie) directly to this device instead of your smartphone's speaker.
Conclusion
Dodocool Mini Bluetooth Speaker is not only small pocket sized speaker but it also comes with high volume with good sound quality at affordable rate. It also has good feature to answer your call directly from there.
If you are planning to buy speaker that you can carry with you on trip, school or anywhere along with you, you can get this cheap and affordable Bluetooth speaker for your needs. It's great value for your money, check this amazing speaker online from Amazon here.
[tie_list type="thumbup"]
Good Bluetooth range
Impressive sound for it's size
[/tie_list]
[tie_list type="thumbdown"]
Can be more bass but given its size it's totally understandable
[/tie_list]
[easyazon_infoblock align="none" identifier="B01ITE6VY2″ locale="US" tag="theandroidportal07-20″]