In the fitness tracking world, Fitbit stands as a beacon for health enthusiasts, often setting a benchmark in the market. The Inspire line, in particular, has garnered attention for its sleek design, practical functionality, and affordability.
With the launch of the Fitbit Inspire 3, the question on everyone's lips is how it stands up against the Inspire 2. This comprehensive comparison will dissect their features, designs, battery life, and overall value to equip you with the necessary information to make an informed buying decision.
Fitbit Inspire 2 vs Inspire 3: Which One Should You Buy?
Design and Display
The Fitbit Inspire 2 and Fitbit Inspire 3, at a glance, showcase the brand's ethos of minimalism and efficiency. Both trackers present a slim and modern aesthetic that sits comfortably on the wrist, making them unobtrusive companions for daily wear and during sleep.
The Inspire 2 sports a monochrome OLED touchscreen, crisp and clear, but pales when juxtaposed to the Inspire 3's vibrant color AMOLED display that enhances readability and interaction. The Inspire 3 puts a fresh spin on the series' design language with a more refined and user-friendly interface complemented by the color screen.
Health & Fitness Tracking
The core functionality that has solidified Fitbit's reputation — health and fitness tracking — is robust in both models. Activity tracking is comprehensive, capturing metrics such as step count, distance traveled, and calories burned.
The heart rate monitor present in both devices facilitates cardio fitness level tracking and helps estimate calorie burn more accurately.
Where the Inspire 3 starts to edge forward is in the addition of a SpO2 sensor. This new feature allows for blood oxygen monitoring, which can be a crucial indicator of overall health and is significant for those with specific health conditions that require such vigilance.
Both Inspire models include sleep tracking, which charts sleep stages and provides a sleep score and insights to promote better sleep habits. However, the Inspire 3's improved sensor suite can offer users a richer data set for a more nuanced understanding of their sleep patterns.
See Also: How many years Fitbit can be used?
Smart Features and Notifications
Smartphone connectivity is an area where both devices excel, providing call, text, and smartphone notifications.
However, the superior display of the Inspire 3 renders these notifications more visually engaging and easier to read. Additionally, the Inspire 3 supports quick replies on Android, which allows for swift interactions without needing to reach for your phone.
Fitness and Wellness Tools
When stepping into the fitness arena, both Inspire models support more than 20 exercise modes, allowing users to track specific workouts such as running, biking, and yoga.
Both trackers also offer the convenience of SmartTrack, which automatically recognizes and records activities. The Inspire 3 gains traction with real-time pace and distance tracking, utilizing the phone's GPS.
Battery Life and Charging
Battery life is a significant consideration for any wearable, and here is where the Inspire series truly shines.
The Inspire 2 offers an impressive battery life of up to 10 days, making it a great travel companion or simply a reliable device for those disinterested in frequent charging.
The Inspire 3, even with its radiant display, doesn't disappoint either — offering a substantial 7 days of battery life that still beats many competitors in the same category.
Activity Tracking Know-How
Both Inspire 2 and Inspire 3 have robust activity tracking capabilities, logging steps, distance, and calories burned throughout the day. However, they cater to different intensities of fitness enthusiasts.
The Inspire 2 is the more basic of the two, offering streamlined tracking perfect for everyday use, casual walks, and regular gym sessions.
On the flip side, the Inspire 3 takes it a notch higher by offering a broader range of activity modes. It's equipped to handle everything the Inspire 2 does, in addition to yoga and swimming, thanks to its enhanced water resistance — a strong selling point for swimmers and triathletes.
Heart Rate Monitoring Precision
Heart rate tracking is critical for understanding workout efficiency and overall health. Both the Inspire 2 and Inspire 3 employ Fitbit's PurePulse technology for continuous heart rate monitoring, which has a solid track record for accuracy.
However, the Inspire 3 boasts an updated algorithm and improved sensor, promising users a more precise heart rate reading, which is especially useful for high-intensity interval training (HIIT) and tracking resting heart rate trends over time.
A Deeper Dive into Sleep Tracking
Sleep is just as important to fitness as exercise, and Fitbit knows it. Aside from tracking sleep stages, both models give a nightly Sleep Score in the Fitbit app, offering insights into sleep quality.
The Inspire 3, however, levels up with its more elaborate sleep-tracking capabilities. It potentially offers better insight into breathing patterns and can monitor blood oxygen levels overnight with its SpO2 sensor—important for detecting signs of sleep apnea or other breathing-related health issues.
Both models also feature a silent alarm to wake users with gentle vibrations, which proves less disruptive than audible alarms and can be conducive to a more restful sleep experience.
Battery Life Battle
Battery life is pivotal for ensuring your fitness tracker keeps up with you. The Inspire 2 leads the charge here, boasting an impressive 10-day battery life.
That's a full workweek plus a weekend of uninterrupted tracking. The Inspire 3 doesn't lag far behind with a 7-day battery life despite its more colorful and engaging display.
Size and Weight
The wearable nature of fitness trackers makes their size and weight significant factors. The Inspire 2 is incredibly lightweight at merely 30 grams and has dimensions that maintain a low profile on your wrist.
The Inspire 3 maintains a similar lightness but has a slightly larger color display that provides a better visual experience without adding bulk. Both models promise all-day comfort, which is essential for consistent, accurate health tracking.
Sensor Suite Analysis
Turning our attention to the onboard sensors, the Inspire 2 is equipped with an accelerometer and heart rate monitor, providing the necessary data for most standard fitness tracking needs.
The Inspire 3 advances its sensor array with the addition of a SpO2 sensor, which is not available on the Inspire 2, giving a wider view of your health metrics by tracking blood oxygen levels.
Pricing
Since the Inspire 2 has been superseded by the Inspire 3, the prices have seen some re-adjustments. Initially launching at a similar price point of around $99.95, the Inspire 2 can now often be found at a reduced price, offering great value for those who don't necessarily need the latest model.
Check and compare the price of Inspire 2 models from Amazon & Walmart below.
$62.25
$79.95
in stock
42 new from $59.94
1 used from $48.99
as of December 11, 2023 1:06 am
Check and compare the price of Inspire 3 models from Amazon & Walmart below.
$79.95
$99.95
in stock
6 new from $79.95
1 used from $69.99
as of December 11, 2023 1:06 am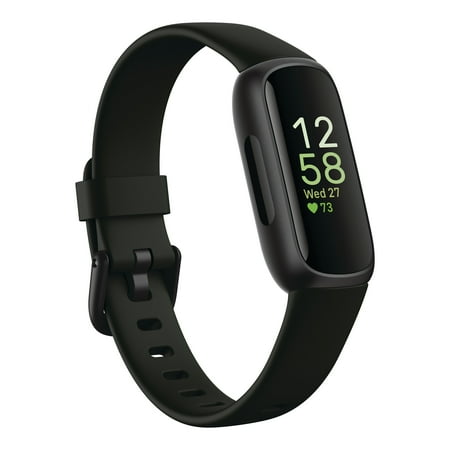 On the other hand, the Inspire 3, being the newer iteration, carries a price tag reflecting its modern additions, available under a $100 price tag.
| Feature | Fitbit Inspire 2 | Fitbit Inspire 3 |
| --- | --- | --- |
| Display | Monochrome OLED touchscreen | Color AMOLED touchscreen |
| Design | Slim, lightweight, comfortable | Slim with a more refined look, rounded edges |
| Battery Life | Up to 10 days | Up to 7 days |
| Health Tracking | 24/7 Heart rate monitoring, Activity tracking | 24/7 Heart rate monitoring, Activity tracking, SpO2 Monitoring |
| Sleep Tracking | Advanced sleep monitoring with Sleep Score | Enhanced sleep tracking with Sleep Score and more detailed insights |
| Smart Features | Call, text, calendar alerts, silent alarms | Call, text, calendar alerts, silent alarms, and quick replies on Android |
| Exercise Modes | Over 20 exercise modes, SmartTrack | Over 20 exercise modes, SmartTrack, real-time pace and distance with phone GPS |
| Connectivity | Android & iOS compatibility, App dashboard | Enhanced connectivity with a more vibrant display, Android & iOS compatibility, App dashboard |
| GPS | Connected GPS (uses phone) | Connected GPS (uses phone) |
| Water Resistance | Up to 50 meters | Up to 50 meters |
| Additional Features | – | Blood oxygen (SpO2) monitoring |
| Price | Around $99.95 (often found at a reduced price) | Typically under $100 |
Conclusion
The Fitbit Inspire 2 and Inspire 3 are both compelling offerings for anyone looking to delve into the world of health and fitness tracking without the overwhelming complexity or premium cost associated with more advanced wearables.
Choosing between the two ultimately boils down to prioritizing the features that matter most to you. If a color display and added health features like blood oxygen monitoring are attractive to you, the Inspire 3 is the clear winner. However, if you're looking to save some money and need a reliable, no-frills tracker that gets the essentials right, the Inspire 2 still holds up as a budget-friendly alternative.
Both devices uphold Fitbit's legacy of encouraging a healthier, more active lifestyle, serving as gentle daily reminders and intelligent insights into our personal health and fitness journeys.
As you weigh your options, remember that the best fitness tracker is the one that meets your needs and actually gets worn every day. Whether it's the Inspire 2 or the Inspire 3, Fitbit has engineered these devices to inspire action, motivate wellness, and celebrate every step of your fitness expedition.