In India election is running nowadays and Indian Election 2014 result is going to declare on 16th May 2014. Since 7 April, from when the election has started the nation has gone to the polls and the India Election Prediction, be it for the campaigning parties or voters themselves, cannot be overlooked. There are lots of apps available on Google Play Store that are specially created for Indian Election 2014. Here we have discovered few of them, and those are listed here for your reference.
Indian Elections Android Apps

It is a great app for politics interested person, it shows complete details of election along with previous election results. It shows complete details like voting dates for all states, constituencies, the candidate list for election 2014 and much more. The previous result includes all details like previous prime ministers of India, dollar vs Rupees and past history of India. Election menu shows details about the electoral process, the model code of conduct etc. Social network tab shows social network profile links to politicians to follow.
---
Election 2014
Live Election Results for Parliament Elections 2014 on your smartphone as the counting is in progress. The app will provide you real time results for General elections 2014 with party wise initial leads followed by the wins as the counting progresses. You may also select the constituency you are interested and get candidate wise vote details along statistical data of previous elections.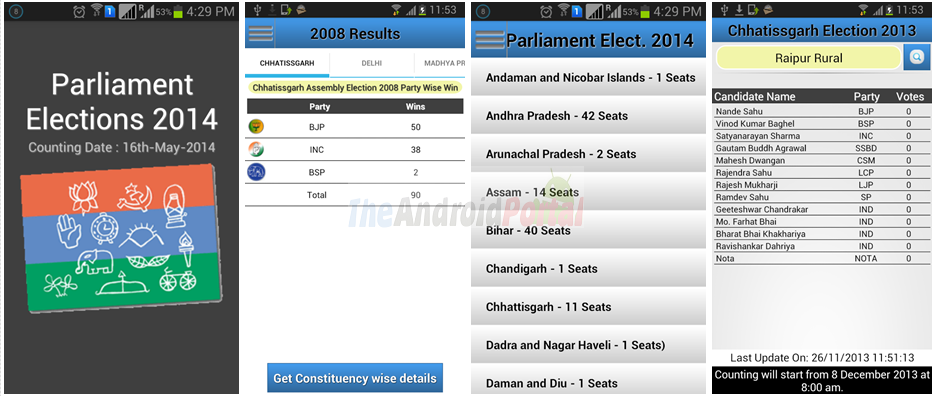 It also includes past year results with seats and election results. An interesting feature of this app is Real-time results of the Parliament (Lok Sabha) or Assembly (State) elections as the counting is in progress. The result will be displayed live from the time counting begins on the said date. If you don't know When Are the 2014 Elections, you can check live result of it from this app.
---
India Elections 2014
India election 2014 name is similar to the first app mentioned here in the list. There are default sections in this app like Know Your Candidate, Election News, Party Manifesto, Poll Date & Live Vote Count. These menus are showing details for each candidate, party and everything about India Elections 2014 Opinion Polls & Indian Elections 2014 Results.
Developed by Opti Matrix, the free app also has details about the elections dates, schedule, political parties, voting nominees, voting places, date wise news and election result of assembly and parliament elections.
An interesting feature of this app is you can easily able to see criminal, financial and educational information and compare candidates from different parties. The information is shown in based on a self-declared affidavit by contesting candidates.