We have recently discussed call recorder android app for Micromax smartphones.We are now coming up with new call recorder app that is compatible with Samsung galaxy smartphone device. Galaxy Call Recorder is another best automatic call recorder app for Samsung smartphones. Here is a quick overview about  Galaxy Call Recorder that can record all incoming and outgoing calls from Samsung galaxy smartphones.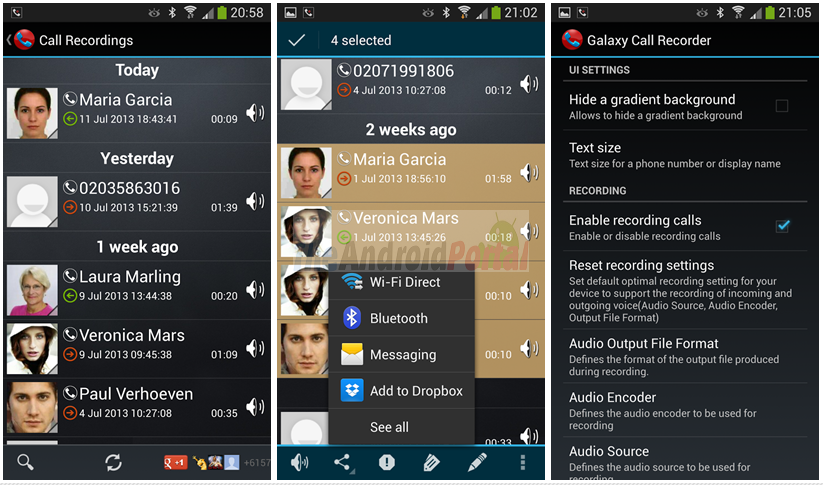 Samsung Call Recorder android app allows smartphone users to record all phone calls. As this program is using Android Standard API the two-way recording will work only on some devices such as Samsung Note 3/2, Galaxy S4/3/2.
You can set this call recorder to delete recorded calls automatically when they becoming old or when a record length is not long enough to be saved. Additionally, it is possible to disable recording when headphones or Bluetooth device is used. Also, it is possible to disable recording for incoming or outgoing calls.
Note : This Auto Call Recorder App does not work on S4 and Note 3 with KitKat 4.4.2 if records are being stored on an SD card. It is highly recommended for Note 3 users not to update to KitKat 4.4.2
It is easy to manage phone call records, If you don't know How to Record Phone Calls On Android, you can set it on an automatic way. It would automatically record all incoming and outgoing phone calls from your smartphone. If you want to record only specific phone calls, you can set it on manual call recording.
You can search any call recorders in an easy way, by name or by phone number or contact icon. By default, all calls would be recorded on Samsung Device's internal memory. This app has also setting that allows you to store recorded But you can set recording path to your micro SD card that would be helpful for you to save internal memory space on your Samsung device.
There is best security and privacy option. Your phone calls would not be accessible by any others. Because everyone has to bypass the pattern lock you have configured in your app, before they get access to your recorded files.
An interesting feature of this app is You can mark records as important, highlight and write notes on recorded calls. You can integrate  Galaxy Call Recorder with your Dropbox account, to store your recorded calls on cloud storage account. If a recording is too long to store, you can set it for automatic split recorded calls.
Here are the list of few device where you can record incoming and outgoing calls.This app is compatible with GALAXY Note3,,S4 (jflte),S4 Zoom (mproject3g),S4 mini (serranods, serranolte),Note 8.0 (kona3g),Note2 (t03g),S3 (m0, GT-I9300) ( except d2spr. d2att, d2mtr, d2can, CyanogenMod ),S3 Duos (arubaslim),MEGA (crater),Grand Duos (baffin),S2 (GT-I9100) ( Android 2.3 only ),S II (SGH-T989),S Advance (GT-I9070),Note (GT-N7000),Mini2 (GT-S6500D),Y (GT-S5360),Y Duos (GT-S6102),Y Duos Lite (GT-S5302),Y TV (GT-S5367),S DUOS (logan2g),S Epic (SPH-D710VMUB),Star (mint),Ace (GT-S5839i),Ace Duos (GT-S6802),Win (delos3geur),Core (arubaslim),Young (royssnfc, roy),Pocket Neo (corsica).
Not only Samsung device, but it is also compatible with some of Sony XPERIA device such as Z1/Z (C6903),SP (C5303),U (ST25i) and other smartphone device such as LNV-Lenovo A790e (msm7627a),Acer E320 (C6),ZTE N9120 (elder),Xolo X900 (blackbay),ALCATEL ONE TOUCH 8008D (Scribe5HD), Moto G etc.